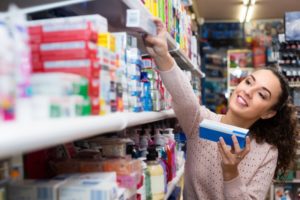 You're well aware of the importance of brushing your teeth on a regular basis, as it helps to control bacteria growth and prevent cavity development. To achieve maximum results, you'll need to determine which type of toothpaste is best suited for your needs. Continue reading to learn how to choose toothpaste in South Windsor.
Why the Type of Toothpaste You Use Matters
When it comes to selecting toothpaste, there are so many options to choose from that it can be overwhelming. Because all types and brands aren't created equal, it helps to have some simple guidelines to follow. Therefore, you can rest assured that your efforts won't go to waste.
Toothpaste Options
Based on the condition of your teeth and gums, here are some of the toothpaste options that are available for you:
Fluoride Toothpaste
Arguably the most important ingredient, fluoride is a naturally occurring mineral that has played a significant role in decreasing tooth decay over the past 50 years. It's now found in most types of toothpaste.
Tartar Control Toothpaste
In addition to fluoride, tartar control toothpaste may contain such chemical compounds as pyrophosphates and zinc citrate. Additionally, some types may include an antibiotic called triclosan, which helps to kill some of the bacteria inside the mouth.
Toothpaste for Sensitive Teeth
If you're subject to tooth sensitivity when you consume hot or cold foods or beverages, you may be in need of toothpaste for sensitive teeth. These types of toothpaste usually contain potassium nitrate or strontium chloride, which work by blocking pathways to the nerves.
Whitening Toothpaste
With whitening toothpaste, a slightly blemished or stained smile can be brightened. Instead of bleaches, it typically contains extra abrasive particles or chemicals that work to lift stubborn stains and polish your teeth.
To determine which of the above categories to choose from, take a moment to assess the condition of your teeth and how you'd like them to look.
Key Pointers for Choosing the Right Toothpaste
In addition to understanding your smile goals and the condition of your teeth, you should consider the following to help you make the best decision:
American Dental Association (ADA) approval – Before making a purchase, look for the official ADA stamp. This lets you know that the product has been evaluated for safety and effectiveness.
The warning signs of an imposter – The Food and Drug Administration (FDA) warns against buying toothpaste that says it's made in China. These products could potentially contain harmful ingredients.
Your needs and those of your family members – When making your selection, consider the dental hygiene habits of everyone in your family and the condition of their oral health.
After you've made a decision on which type of toothpaste to purchase, the next step is to consistently and properly use it. When you visit your local dentist for a checkup and cleaning, you'll have an opportunity to receive a professional recommendation to ensure that you're on the right track!
About the Author
Dr. Sara E. Curcio earned her dental degree from the University of Connecticut School of Dental Medicine. An active member of the Academy of General Dentistry, she regularly participates in continuing learning with Spear Education. Dr. Curcio provides superb dental care at her private practice, and she can be reached for more information or to schedule a visit through her website.