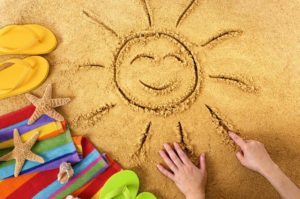 Is your calendar filling up with graduations, weddings, family vacations and trips with friends? If so, your summer is looking like it will be filled with fun — and you'll want to look good for all of the pictures that will document these happy memories. Don't let a stained or chipped tooth take away from your summer plans with feelings of low self-esteem and embarrassment. There is a variety of cosmetic dental procedures that can fix your smile just in time for your fun in the sun. Keep reading to learn how your dentist near South Windsor can brighten your smile.
Enjoy brilliant results with teeth whitening
If your teeth have grown a little yellow over the past months, your local store offers dozens of treatments that promise dramatic results. However, pursuing your whitening options with your dentist offers you access to treatments that are stronger than what's offered at the store. Many dentists provide custom whitening kits that can be used at home.
In your kit, your dentist will include a set of mouth trays that are custom-made for the shape of your teeth. You simply need to wear the trays with the provided whitening gel for 30 minutes a day. The trays, used over a 2-week period, won't interrupt your busy schedule and can be used over and over to achieve a difference of up to 8 shades whiter.
Polish your smile with tooth bonding and dental veneers
While dents or chips can overshadow the brightest of smiles, tooth bonding and dental veneers can help make your teeth look better than ever. Both procedures are used to restore your smile by removing minor flaws, but one may be better for your specific needs, so discuss these options with your dentist.
Tooth bonding
Tooth bonding is the simpler (and cheaper) restoration option. To fix imperfections, your dentist applies a resin to your tooth. Matched to the color and sheen of your natural teeth, the resin is smoothed and polished before it hardens. This procedure can be completed in a single visit, allowing you to quickly achieve your dream smile.
Porcelain veneers
Porcelain veneers are a permanent restoration solution. They can address cracks, chips, stains and similar types of teeth wear. These wafer-thin shells are customized to best match your smile and then bonded to the front of your tooth with a special cement. The result is more natural and stain resistant than tooth bonding, but the procedure is usually more expensive.
Choosing a cosmetic treatment that's right for you is the perfect way to get your smile ready for summer. With some help from your dentist, you can enjoy renewed confidence, smiling wide for the many pictures that will document your happy moments.
About the Author
At South Windsor Dental, Dr. Sara Curcio is committed to ensuring her patients' comfort at every visit. With over a decade of experience, she was voted as one of Connecticut's Top Dentists in 2013. Dr. Curcio is a member of Spear Education and participates regularly in continuing education courses to promote life-long learning. If you have further questions about cosmetic dentistry, she can be reached through her website or at 860-644-2476.