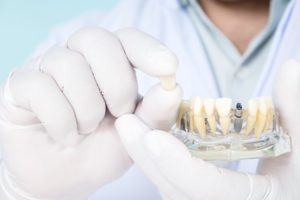 Do you have missing teeth due to infection, decay, or injury? Leaving them unreplaced can cause numerous oral health problems. If the gaps in your smile are causing your self-confidence to spiral and making it hard to do basic daily tasks like eating and talking, dental implants in South Windsor could be the solution for you. Putting off taking care of your dental issues can cause serious consequences such as jawbone deterioration and misaligned teeth. Read on to get a basic grasp of dental implants and how the procedure could benefit you.
What Are Dental Implants?
Dental implants are titanium posts surgically placed in the jaw to replace your missing tooth's root. Restorations such as dentures, bridges, or crowns are then securely placed on top. Because the implants fuse with your jawbone, they're able to provide a sturdy foundation for your replacement teeth.
What Is The Process Of Getting Implants?
Getting dental implants can be a timely process, but the results are well worth it. First, you'll consult with your dentist to see if you're a good candidate for the procedure. During this appointment, you can ask them any questions or concerns you may have.
The first step of the procedure is scheduling the surgery to place your titanium implants. These will fuse with your jaw through a process called osseointegration. They provide your restorations with a strong and lightweight foundation.
After osseointegration, your dentist will then attach the abutment which is a connector piece placed on top of your implant. Once your gums heal around the abutment, your dentist will then place the restoration on top. If you're replacing a single tooth, a crown may be the best option for you. If you're looking to replace an entire arch, implant-retained dentures may be a better option. After these steps of the procedure are completed, your dentist in South Windsor may request a follow-up appointment to check on how you're adjusting to your new implants.
How Can Dental Implants Help You?
Dental implants are a popular and commonly recommended procedure because they're not only aesthetically pleasing, but they also benefit your oral health. Whether you've been affected by tooth loss due to infection, decay, or injury, this procedure could be incredibly advantageous. Some benefits of include:
They look and feel natural, so you won't have to worry about experiencing daily discomfort. You brush and floss as you would with your natural teeth, so you won't need to remove them when you clean or eat.
They're long-lasting when they're properly cared for. Implants can last over 25 years when you keep up with your oral hygiene and continue to visit your dentist for checkups and cleanings.
Boost your confidence by filling in the gaps in your smile. With other restorative options like dentures, you could experience embarrassing moments because they slip and shift in your mouth. With implants, enjoy eating and speaking without having to worry about slurring your words or avoiding certain foods.
Preserve your facial features by avoiding jawbone deterioration. Because your implants are fused with your bone, they will stimulate your oral tissues and jaw, promoting bone growth. This helps prevent your face from becoming saggy or droopy.
Visiting your dentist for a consultation about dental implants is the first step to getting the completed smile you've been dreaming of. Enjoy all the comforts and conveniences of natural teeth with this procedure. Investing in your oral health and smile is the best thing you can do!
About the Author
Dr. Sara Curcio has been giving patients healthy and bright smiles for over a decade. She has always felt that listening to her patients is the best way to provide them with the treatment they can trust and count on. Not only was she voted by her peers as one of Connecticut's Top Dentists in 2013, but she is also a member of Spear Education and keeps up with advancements in her field. For any questions or to schedule a consultation for dental implants, visit South Windsor Dental's website or contact 860-644-2476.